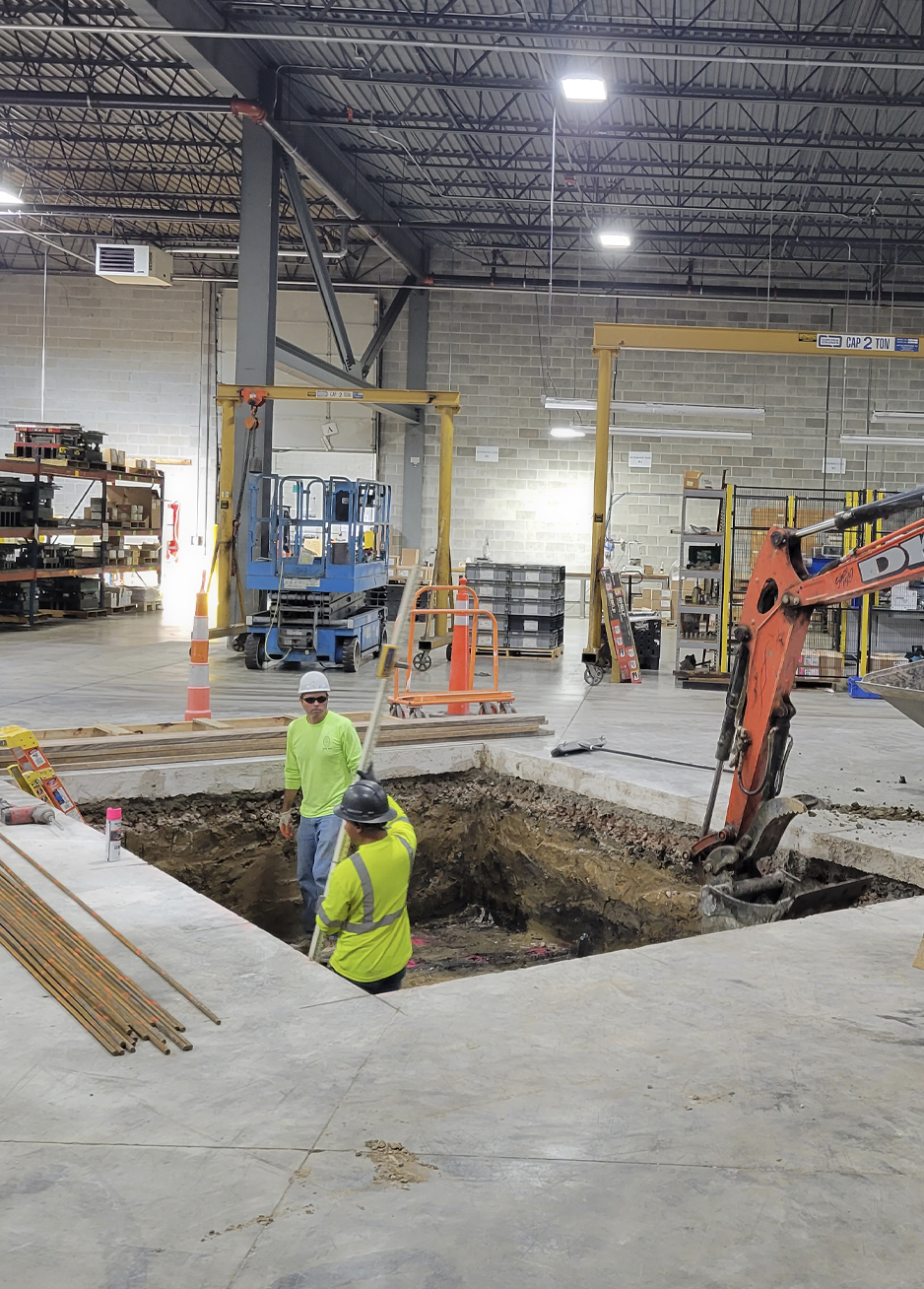 PROJECT DETAILS
General Contractor: Rasch Construction
Business/Building Owner: Kenosha Metal Products
Trades Performed: Concrete
Project Architect: Excavation and Demolition: DK Contractors
Project Industry: Manufacturing
Construction Services: Concrete, General Contracting
Team Members: Jason Rasch
Kenosha Metal Products in Pleasant Prairie recently purchased a massive 100,000# press. However, the machine manufacturer provided limited information regarding the required floor strength to support this equipment. Recognizing the importance of a stable foundation, the company engaged professional services to ensure the foundation could not only support the press's weight but also its operational torque over time.
Rasch Construction collaborated with a soils engineer to understand the ground conditions and formulate a robust solution. They subsequently partnered with DK Contractors to handle the demolition and excavation elements of the project. Rasch Construction's role was pivotal in overseeing the concrete work. They managed the concrete crew and provided comprehensive project management, ensuring flawless execution.
Unexpectedly, the delivery of the press was advanced by a month from its original mid-October schedule. This development compressed the project timeline. Kenosha Metal Products communicated this change to Rasch on a Thursday, underscoring the need for immediate action.
Thanks to Rasch Construction's responsiveness and decisive action, they promptly adjusted to the new timeline. By the following Monday, a special type of concrete, designed to reach full strength rapidly, was poured. This expedited setting ensured the foundation was prepared for the press's early arrival.
This endeavor highlights Rasch Construction's dedication to delivering top-tier solutions, even under pressing deadlines. Through close collaboration with partners and specialized knowledge, Rasch Construction satisfied Kenosha Metal Products' unique requirements, guaranteeing a solid and dependable base for their new equipment.