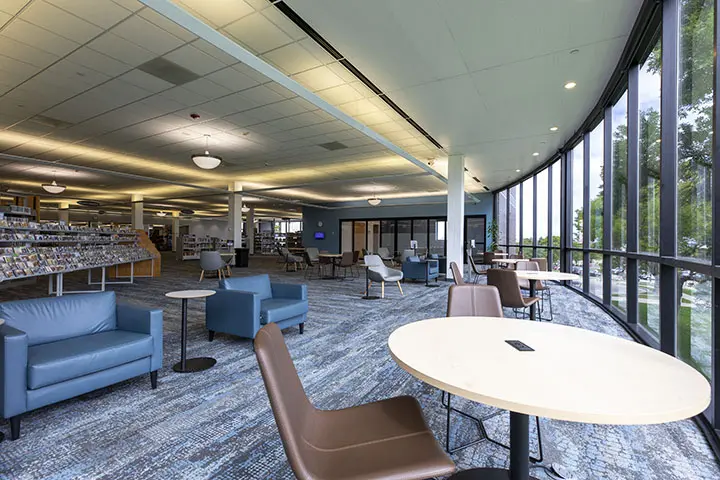 PROJECT DETAILS
General Contractor: Rasch Construction
Business/Building Owner: City of Racine, WI
Trades Performed: General Contracting
Project Architect: Product Architecture + Design at 811 Evergreen Ave Chicago, IL
Project Industry: Municipal, Education
Construction Services: General Contracting
Team Members: Bryan Yakel – Rasch Construction Project Manager
Joey Perry – Rasch Construction Superintendent
The Racine Public Library Renovation represented the most dramatic update to the space in 30 years. Rasch Construction was the general contractor for this project designed by Product Architecture + Design out of Chicago, Illinois. Among the most noticeable additions were the new flooring, lighting, painting, and installation of fabric panels on the walls throughout the 29,300 square-foot renovation area. Rasch's contributions to the renovation included:

Installing a new staircase from the first to the second floor with a new entrance on Lake Street.
Updating the "Beyond the Book" area with new displays and shelving to house games, tools, and other items.
Creating a new, modern "Teen Space" with colorful nooks and booths for studying, including Mac and PC workstations.
Expanding the "Innovation Lab" with new workstations to make it easier to join STEM workshops, 3D printing, laser engraving, and virtual reality.
Creating a new state-of-the-art "Audio Room" with a soundproof voiceover booth and separate recording workstation.
Updating open seating throughout the second floor, including new carpet and paint.
The refresh also offers a new "Community Kitchen, Meeting Rooms, and Business Center" equipped with whiteboards and AV technology.
Gallery Photo Credit: McShane Fleming Photography Studio